Welcome!

Too often we glimpse a story in our news feed and then see a link on Twitter to an opinion about it—all before we have even a minute to absorb it. There's just too much happening too fast, all of it vying for our attention and, as a result, nothing seems to stick. Or as Peter Baker put it recently in The New York Times, "The shocker that consumed Twitter three hours ago is so quickly overwhelmed by the next one that it seems impossible to digest any single moment to assess its meaning or consequences." The world is a blur of fleeting impressions where what our time calls for is the ability to focus on issues and events that actually matter.
This is where The Chronicles of Now comes in. Starting today, we are commissioning the world's greatest authors to write short fiction inspired by the headlines. In doing so, we're hoping to prompt readers to consider a single resonant news story—what it means, why it happened, and why it matters—with fresh eyes. We accompany each short story with a fact-checked explanation of the news that took place, along with a curated list of the best narrative journalism, podcasts, books, and films on the topic for those who want to dig deeper. We'll be doing this every week and featuring writers such as Curtis Sittenfeld, Carmen Maria Machado, Colum McCann, Weike Wang, and Benjamin Percy.
A good place to start is "The Extinction Show" by Manuel Gonzales, the author of the story collection The Miniature Wife and the The Regional Office Is Under Attack, both of which are astonishingly hilarious and mind-bending at once. Manuel's new story was inspired by the major UN Climate Report that came out last year, which The New York Times encapsulated with this lede:
Humans are transforming Earth's natural landscapes so dramatically that as many as one million plant and animal species are now at risk of extinction….
I recall reading the beginning and then giving up. It was just too unsettling.
And yet Manuel's story about people who pay to witness extinction live, as if it were a music or magic show, is one of the funniest, chilling, and most incisive acts of the imagination I've read in years. The story perfectly encapsulates what we're doing with The Chronicles of Now: turning a news story that rushed past us in the welter of what we call the news cycle into a work of art that prompts us to take a moment to absorb it; a work of art that sticks with you long after the cycle has moved on.
I hope you like Manuel's story. Sign up here and we'll send you a new one every week as it's published on our website.
Creating the Chronicles has been as close to building an underground magazine as it gets these days—a ton of friends, some very old, some very new—chipping in their time and talent to build something cool simply because we believe in it.
And if there are things you love or hate or think could be better, please get in touch. Your feedback would be incredibly helpful as we push ahead.
Thanks for joining us—it means a lot!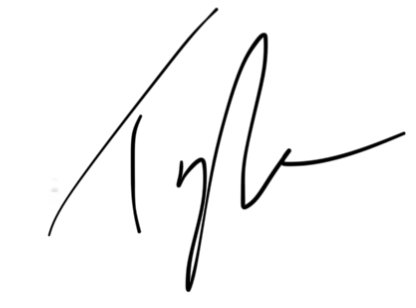 Tyler Cabot
Founder and Editor
The Chronicles of Now